Gulf Who's Who Directory 2014-2015
Publishers
Sunliz Publications W.L.L.
P.O.Box 2688, Manama, Kingdom of Bahrain.
Tel: 00973-17276682 Fax: 00973-17230064 Mobile: 00973-39441956
email: sunlizpublication@yahoo.com, kulathakal@yahoo.com, kulathakal49@gmail.com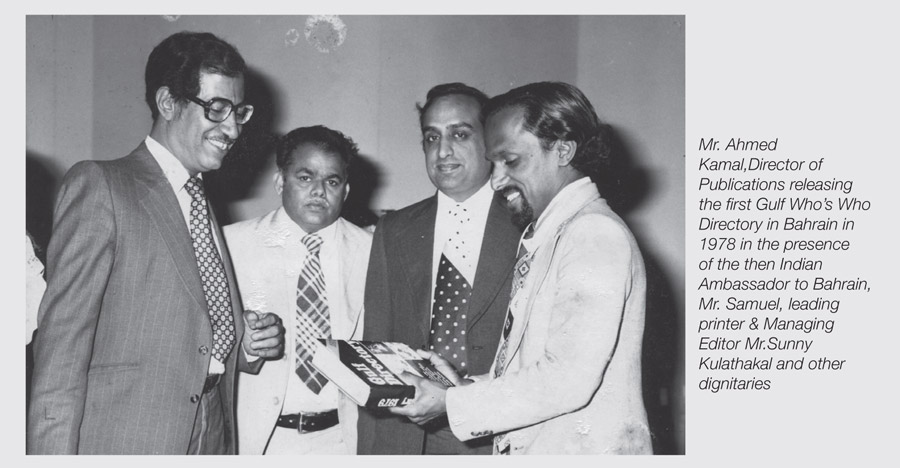 First Published 1978 - G.I. Agencies P.O. Box 3859
Bangalore-560038, India.
S.K. 2001, All rights reserved.
Price BD 15/-
Managing Editor - Sunny Kulathakal.
Consulting Editor - Issac John.
Project Director - Mrs. Elizabeth S.K.
Design - Udayan
Circulation - Media International, India.
Hilal Direct Services, Bahrain.
Printed - Dar Akhbar Al Khaleej
Without the prior permission of the publisher and copyright holder no part of this publication may be reproduced, transmitted or stored in a retrieval system in any form or by any means or used for any commercial or other purposes. Sunliz Publications has taken maximum efforts in collecting information regarding individuals and organisations for inclusion in this publication but does not claim that the information published herein is complete or accurate and does not assume and hereby disclaim any liability to anyone for any loss or damage caused by omissions or errors in this Directory whether it happens from negligence, oversight, accident or any other reason. Founded in 1977-1978, GWWD is duly registered at the Ministry of Information, Kingdom of Bahrain and other departments obtaining patent with international validity.

ISBN- 99901- 03 - 30 - 5